Answered By: Hannah Bowser

Last Updated:

Jun 14, 2017

Views:

486
What this means:
Our eBook vendor has imposed a technical limit on the number of checkouts and returns that can be done by an individual customer in a certain period of time.

The vendor does not make public the details of the limit or the period of time before a limited account is released.
The intention of this limit is to prevent the possible abuse of the system that could occur with someone checking out a title, transferring it to a device, returning it to the library without deleting the file from the device, checking out another title and repeating, thus allowing more than 5 titles to be on their device at the same time.
Unfortunately, this limit can also have the unintended effect of penalizing someone who is simply a speedy reader, and wants to return titles early so that others can enjoy them.

We recommend waiting 72 hours after checking out before returning an eBook to avoid getting this error.
OR

For very speedy readers, simply avoid the download and use the READ IN BROWSER option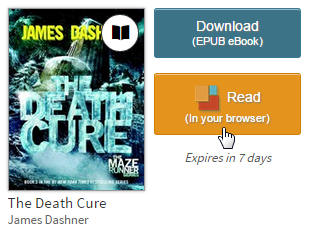 If you still experience an issue, please do not hesitate to contact us!